As part of our focus on women and girls in sport this month, we asked one of sport's outstanding young leaders, Erin Gillen, to tell us about the roles she has in sport, about the impact of sport on her journey and why she thinks there's still work to be done to get more women and girls active.
Erin, a former member of sportscotland's Young People's Sport Panel (YPSP), is passionate about encouraging more women and girls to get involved in sport. Through her roles – past and present -  as an athletics coach, a Fit for Girls tutor, a club committee member, a member of national panels, a volunteer leader and undoubtedly a role model for other women and girls in sport, Erin is making a difference to women and girls in sport! Erin told us:
"Sport means everything to me, it has given me opportunities, created a community and made me feel incredible when participating, I genuinely would be lost without it!"
"I love working and volunteering in sport and have a variety of roles. Athletics is my passion and I'm an u11s coach for Springburn Harriers and the first young person to sit on their committee. In summer 2021, I started working with Scottish Athletics to lead on their Young People's Forum (ATSYPF). This is a group of young people from across the country who are working together to be the voice for young people in athletics and the main aims are retention of young people and improving people's mental health within the sport."
"Alongside athletics, I have a real passion for women and girls in sport, which stemmed from my experience on the YPSP. I now work as a Fit for Girls tutor; in this role I help facilitate workshops aimed at girls across the country to try to uncover the barriers to sport that they face and help get more girls active."
ATSYPF Conference
Earlier this month, Erin helped to coordinate and deliver the ATSYPF Conference at the Glasgow Emirates Arena which gave attendees the opportunity to network, participate in focus groups, workshops and hear from guest speakers, including double Olympian and multiple medallist Eilidh Doyle. Erin commented:
"As the YPF lead, I helped lead and coordinate the conference. It was for young people led by young people and with that in mind I took on the role of hosting the event."
"Behind the scenes I worked with the ATSYPF, Scottish Athletics and our partners SAMH to organise workshops. After months of preparation, we were extremely proud to deliver three informative workshops, host focus groups and welcome special guests throughout the day to celebrate the future generation of our sport."
Eilidh Doyle commented:
"Erin is such a fantastic young woman and ambassador for sport. The amount of time and commitment she has given and continues to give to various clubs, initiatives and programmes is invaluable and not only that she was doing it all whilst completing her dissertation!"
"I am so impressed in particular by the work she is doing for the Scottish Athletics Young People's Forum, a forum she set up and pushed herself because she saw the gap there. If every sport had an Erin, they would be in a great place!"
Making positive change
"One of the highlights was the focus group section which was broken down based on the survey results.  It was a chance for the young people to share their stories and have their opinions heard on a national scale.
"With the information gathered from these sessions along with the results, the ATSYPF are now working to create information packs for clubs that will help change future direction of athletics and have young people's voices at the centre of decision making."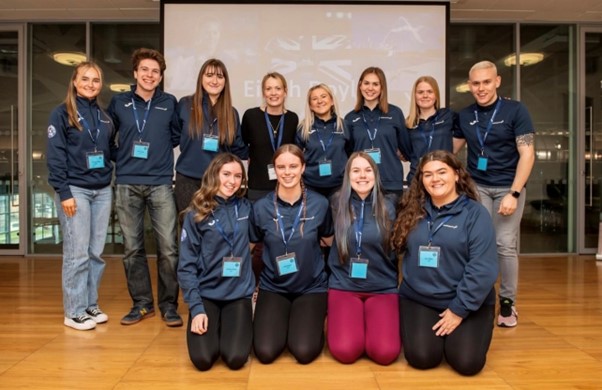 Empowering women & girls
Erin has done a power of work to help make women and girls feel more included in a sports setting. She commented:
"It makes me feel inspired and empowered [to be a role model to other women and girls in sport], I want to be able to make women and girls understand that sport is for them despite all the barriers. I want to continue to push boundaries, question decisions and stand up for what women and girls need in sport."
There is still a long way to go, however, in creating an even playing field where women feel championed and included at all levels of sport. Erin added:
"Throughout my roles in sport, I have had the privilege of speaking to hundreds of young women across the country about their lived experiences. A lot of girls will first encounter barriers to participation throughout their education, therefore I feel it is vital that we allow them the chance to experience a variety of different sports from a young age."
"Breaking down the stereotypes of girls not being 'good' at sport or sport 'isn't for girls' will play massively into encouraging more women and girls to get active - ensuring that we are properly educating sport practitioners on the detriments of defining sports as 'girls sports' and 'boy sports' and adapting resources to ensure girls feel comfortable when participating is essential."
Find out more