Cycling, skating and scooting are thriving in one East Lothian community thanks to the work of dedicated volunteers with the support of the Cycling Facilities Fund.  
Friends of Ormiston Park community group started work on proposals for a pump track around six years ago to create a unique feature in their village community and it has become a huge success with bikers and skaters of all ages and abilities.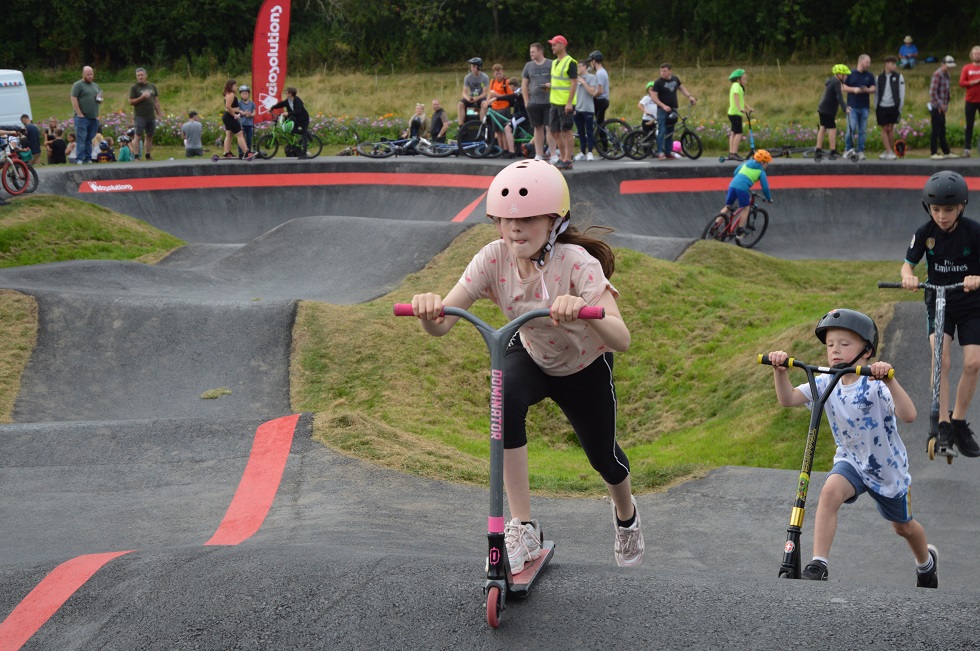 East Lothian Council worked in partnership with the community group to design the final track which can be used not just by mountain bikes and BMX bikes, but everything from skateboards and scooters to roller blades, wheelchairs and balance bikes.  It combines rolling jumps with turns and teaches basic skills of momentum, speed and balance by using arms and legs to 'pump' around the track instead of pedalling. The asphalt surface means that it can be ridden in all weathers and as skills progress. 
The track is already proving hugely popular with the local community and visitors from further afield. Lindsey Mainds of Friends of Ormiston Park said: "Visiting the track on an average day you'll see a wide range of skill levels, with more experienced users helping those new to the sport."
Lindsey says they are now looking at how they can add to what's on offer at the track: "Alongside this informal coaching, the Council and Friends Group are talking to local bodies about potential training sessions."
The track adds to a very active village sporting hub in the park next to Ormiston Primary School. The school already offers some Play on Pedals programmes using balance bikes but plans to expand its activities through the Active Schools programme. 
Ormiston pump track was one of the first projects to receive investment from the £8million Cycling Facilities Fund which aims to deliver a tangible benefit from the 2023 UCI Cycling World Championships in Glasgow and across Scotland. The project received £45,000 from the fund, which was supplemented by match funding from the waste and water management company SUEZ, and the Scottish Landfill Communities Fund, as well as individual donations from community supporters.   
Following the success seen in Ormiston, East Lothian Council has set aside £250,000 in its capital budget to support the development of more tracks across East Lothian, which they hope will both inspire Scotland's next generation of bikers and lead to the development of cycle hubs based around each new facility. 
The ambition for the Cycling Facilities Fund is to provide accessible community and club facilities that create or improve places where people take part in sport and physical activity right across Scotland. The fund was made possible through a £4million commitment of capital funding from Scottish Government and £4million of National Lottery funding from sportscotland. This significant investment in infrastructure is being delivered through a partnership between Scottish Cycling and sportscotland to ensure projects can have a lasting impact. 
There has been huge interest in the fund, which is open to clubs, education establishments, local authorities or leisure trusts, charitable organisations, community sport hubs and community organisations, demonstrating the real demand for community facilities of this kind. 
Find out more
Interested in finding out more about cycling in Scotland? Scottish Cycling has a great new website  to help you
All the information you need on the Cycling Facilities Fund can be found on the sportscotland website