The Herald & GenAnalytics Diversity Awards 2023 shone the spotlight on projects and initiatives with diversity and inclusion at their heart, the event was hosted at the DoubleTree by Hilton in Glasgow on Thursday.
Among those to receive recognition for their achievements, were the University of Strathclyde's Stand By Me inclusive research team, whose work on the impact of dementia on couples with learning difficulties earned them the Diversity Through Education Award. The judges were impressed by the way in which the team, which included members with learning difficulties, explored lived experiences and dispelled long-held misconceptions about what happens if dementia becomes an issue.
During the evening, host Eilidh Barbour welcomed representatives from commercial firms, educational institutions, charities, and the public sector as they joined together to hear the winners announced. What became clear as the event unfolded was that there are efforts underway across Scottish society to redress the balance and ensure that the needs and ambitions of everyone can be met.
This was made clear in the Diversity in the Public Sector Award category, which was won by Lothian Buses for their partnership with the Royal National Institute for the Blind, which has provided drivers with a greater understanding into the challenges of using public transport that people with sight loss face on a daily basis.
And it was equally apparent in the Diversity in Sport category, sponsored by sportscotland, which was shared between the University of Strathclyde for its pioneering Trans and Non-Binary Swim Sessions, which are open not just to staff and students but also to people in the wider community, and the 2023 UCI Cycling World Championships, which set out to be a catalyst for change. Through measures, such as integrated para cycling and making the women's race the event finale – a first for any world championship – they were striving to make cycling accessible and appealing to everyone.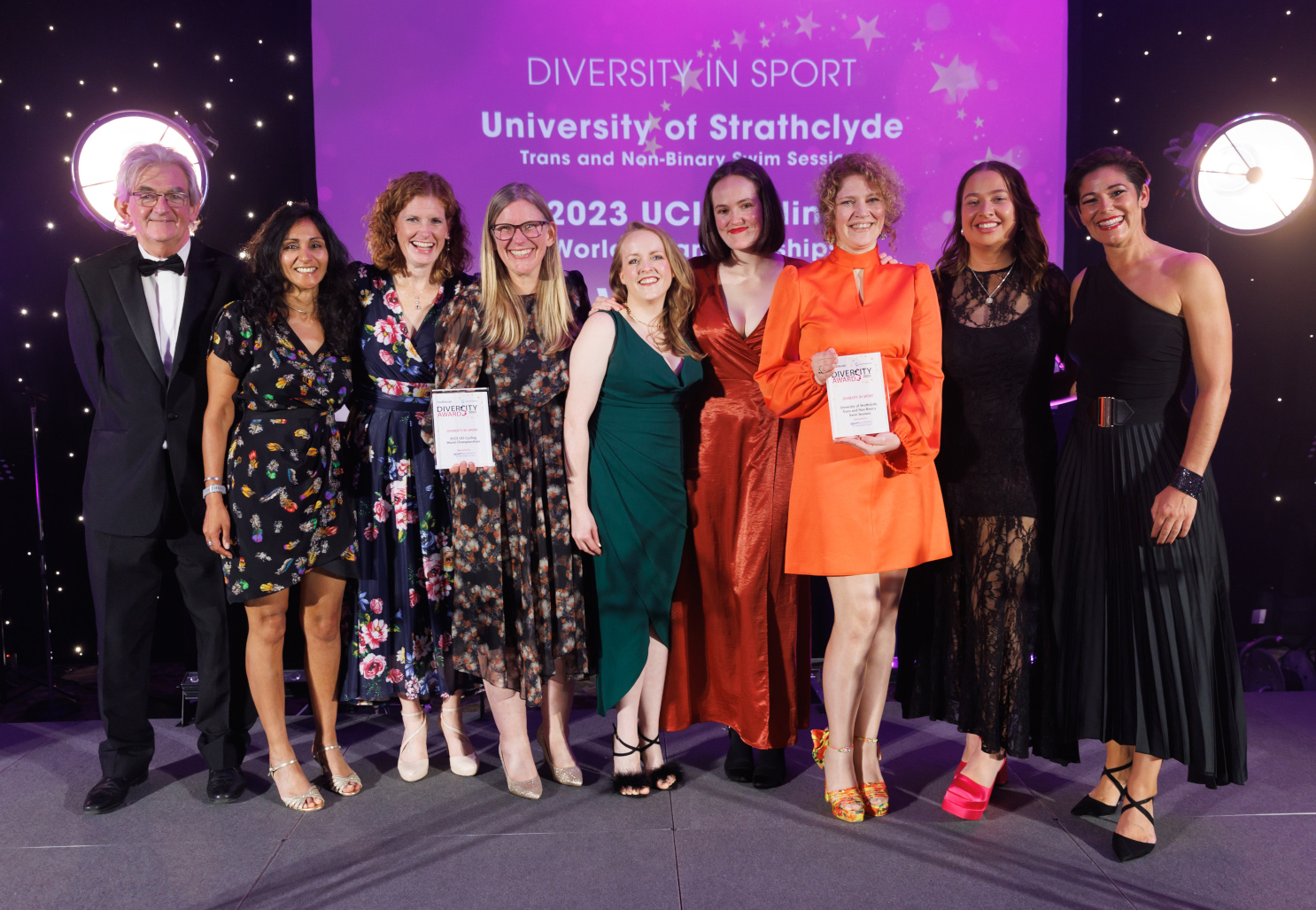 The 2023 UCI Cycling World Championships were also named winners of the Design for Diversity Award, sponsored by BAE Systems, thanks to an approach that included producing Planning for Inclusion Guidelines for each of the event's partners, creating a fund to target people who have been traditionally marginalised from cycling, and working with local community groups including the deaf cycling community at Glentress.
Diversity Award Winners List 2023
DIVERSITY THROUGH EDUCATION
University of Stirling, Stand by Me Inclusive Research Team
DIVERSITY IN SPORT – Sponsored by sportscotland
2023 UCI Cycling World Championships
University of Strathclyde, Trans and Non-Binary Swim Sessions
DIVERSITY IN THE PUBLIC SECTOR
DIVERSITY IN THE THIRD OR CHARITY SECTOR
DESIGN FOR DIVERSITY 
2023 UCI Cycling World Championships 
DIVERSITY CAMPAIGN OF THE YEAR 
University of Glasgow, Together Against Racism – Winner
Deaf Action, Edinburgh Deaf Festival - Highly Commended
DIVERSITY IN NET-ZERO LEADERSHIP AWARD 
DIVERSITY HERO OF THE YEAR 
DIVERSITY AND INCLUSION CHAMPION 
Stripe Communications, Stripe Diversity & Belonging 
DIVERSITY AND INCLUSION CHAMPION – Large employer: 250+ employees
Shepherd and Wedderburn LLP – Winner
Kimpton Charlotte Square Hotel, Edinburgh, in collaboration with Enable Works - Highly Commended
LYNNE CONNOLLY ACHIEVEMENT IN DIVERSITY AWARD