Scotland has set its sights on achieving another set of 'best ever' results in 2018 at the Winter Olympics and Paralympics in PyeongChang and the Commonwealth Games in the Gold Coast.
It is a considerable understatement to say that the early part of 2018 is going to be a busy period, as the three Games take place one after another in February, March and April.
So how does the national agency for sport support Scotland's athletes on the world stage when they are competing on two different continents at the same time of year?
Sport First asked Mike Whittingham, sportscotland Director of High Performance, to discuss the unique set of challenges and opportunities presented by this intense period of high-level competition, and how he and his team will ensure that Scotland's athletes live up to their high standards of delivering medal success in recent cycles.
Targets and more targets
The first targets were unveiled on February 9, 2017 when Mike revealed that the goals for the Scots on Team and ParalympicsGB in PyeongChang will be three or more medals from a team of 24 or more athletes.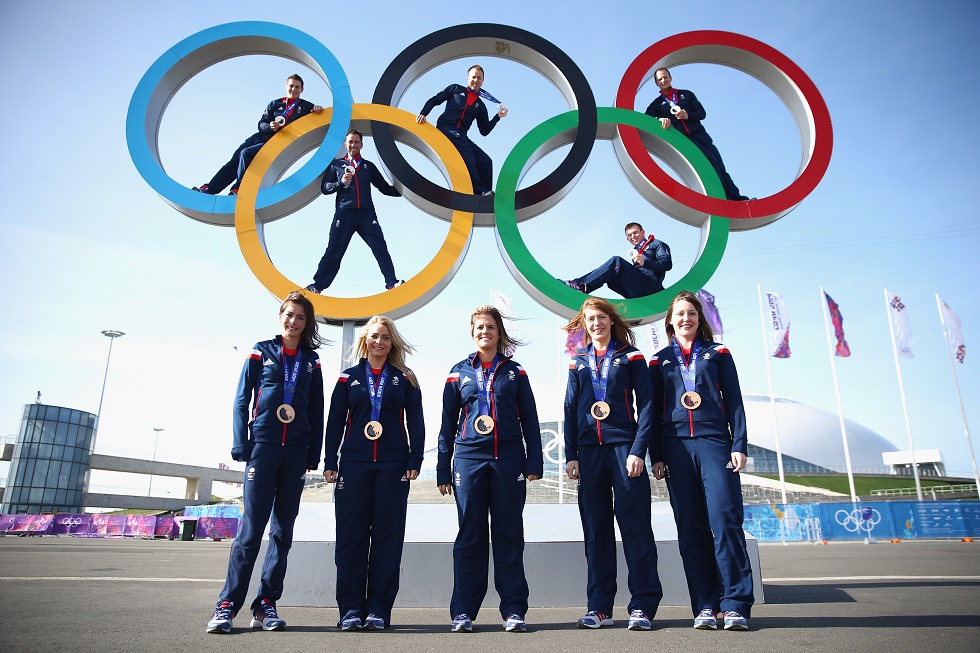 Never has the importance of a collaborative approach with key partners been underlined more than in 2016. It continued the trend of Scottish and British athletes performing with world class support and achieving great results on a global stage.
So where did this journey start?
At the fundamental heart of Scotland's success is the fact that since 1998 the sportscotland institute of sport has been driving a vision that has been underpinned by a clear strategic plan totally supported by each respective Government and sportscotland's corporate plan.
As Mike Whittingham says simply, "We are building a world class sporting system in Scotland and the UK". And history will judge the period 2008 to 2016 as the time when Scottish sport took a major leap forward.
The Beijing Olympics and Paralympics in 2008 created a momentum that built up steam with the achievements of Team GB, ParalympicsGB and Team Scotland in London, Sochi, Glasgow and Rio proving repeatedly that Scotland is capable of punching above its weight on the world stage.
So what comes next?
Rising to the challenge
The year 2017 will be one of transition for some long-term projects at the institute, but for those sports involved in the 2018 Games it will be a year of immensely detailed high-performance preparation.
A two-pronged approach enables Mike to keep one eye on the future, while many of the institute experts will continue to focus on the challenges that loom large in the early part of 2018, activating programmes that have been some years in the planning.
"All our staff are really clear how their attitude, mindset and attention to important detail will play a real part in helping our athletes deliver success with confidence on the world stage," says Mike.
"The demands of three major Games in 2018 within such a short space of time may seem daunting, but our system can respond positively and ensure that all our athletes and sports are fully supported.
"We may have some financial challenges to address in 2017, but we must continue to be constantly ahead of the game in terms of meticulous planning and delivery."
One after another
The 2018 Winter Olympics take place from 9-25 February in PyeongChang, South Korea, with the Paralympic Games following on 9-18 March. Attention will then switch from snow and slopes to sun and surf.
The XXI Commonwealth Games take place in Gold Coast, Australia, from 4-15 April, and when you consider that preparation for each Games will culminate with an acclimatisation period for most athletes in the continent where the action is taking place, it becomes clear that Mike's team will be in continual action at the sharp end for a number of months.
The institute's tracking mechanisms, which form part of its 'Mission 2018' programme, suggest that the next 12 to 14 months could result in record numbers of Scots lining up on behalf of Great Britain and Ireland at the Olympics and Paralympics, followed by another series of best-ever performances by Team Scotland at the Commonwealth Games.
So how do Mike and the SIS balance resources on the preparation and delivery of these enormous programmes, which have competing demands that need to be equally serviced, and make sure that medal targets are hit?
"It is clear now that, in 2017, we have influenced and shaped a high performance family, supported by a world class high performance system," says the institute director.
"Since 1998 we have evolved and grown as the needs of sport in Scotland have changed. We are now very closely aligned with our key Scottish Governing Bodies of Sport (SGBs) and our partners – this level of success has to be a collaborative effort first and foremost.
"The moment you think that you have a winning formula in sport and business you are in danger of losing your advantage or competitive edge."
All in the planning
"The starting point was planning, and we carried out a project called Beyond 2014, which led to a new high performance strategy called New Horizons," explains Mike.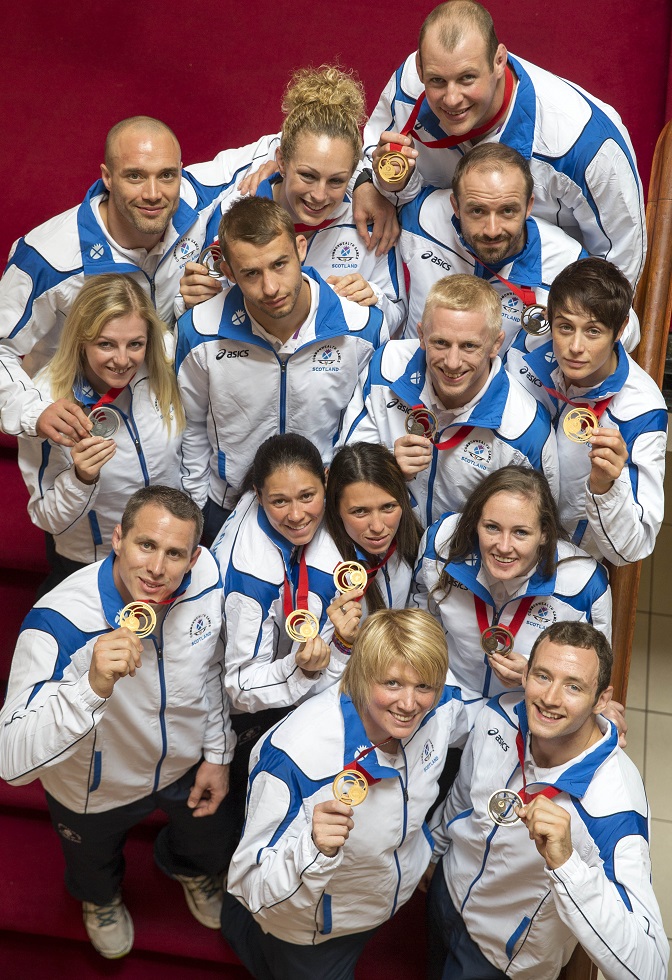 "Judo won 13 medals at Glasgow 2014 but will not be in Gold Coast
"We need to make decisions relating to the Tokyo 2020 Olympic Games and the 2022 Commonwealth Games, even though those Games fall outside of our wider corporate plan.
"Although the wider sportscotland corporate plan covers the years 2015-2019, our high performance strategy is 2015-2023 and that it is because we are driven by both British and Scottish headline goals.
"2022 is important because judo is in that Commonwealth Games but it's not in 2018, whereas basketball is in 2018 but it's not in 2022. Wheelchair basketball is in 2022 but it's not in 2018. So when we are receiving presentations from sports, we are thinking years in advance.
"Our New Horizons strategy is designed to make everyone feel a little bit uncomfortable, we must keep striving for higher standards and keep pushing for competitive edge.
"We have ambitious headline goals for PyeongChang and the Gold Coast as well as the Tokyo 2020 Olympics and Paralympics. We have to be flexible and bespoke in our approach as each Games will  have a range of different problems and needs. The commonality between them all is that we have raised our expectations of success and  all our athletes, performance programmes and environments are aspiring to be world beaters."
How the experts work
There may be a few weeks between each of the Games in 2018, but the job of covering a major event for an expert practitioner does not begin and end with the opening and closing ceremonies.
"From my perspective, because of the proximity of the Games in 2018, we've had to think about which practitioners are going to be involved in which Games and that has meant making tough decisions," says Mike.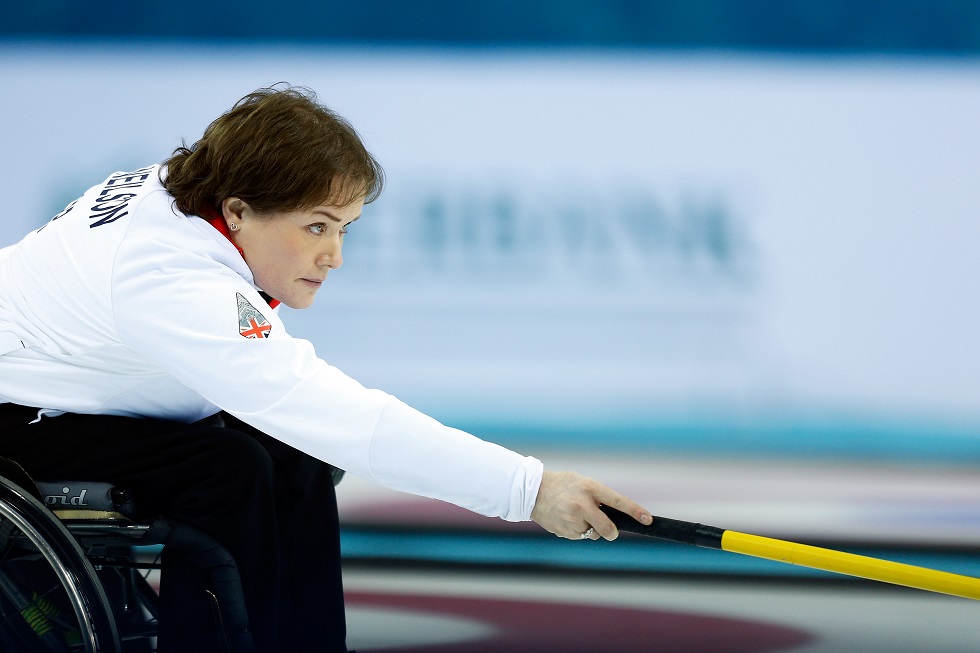 "For example, I've had to say to Dr Niall Elliott, who was Head of Sports Medicine for Team GB at the Rio Olympics, that he can't do both. So he will be Head of Sports Medicine for Team Scotland in Gold Coast. It is not really possible to do both.
"Don't forget too, that we have to continue providing our services here to athletes who are not involved in either Games in 2018. So the starting point is clarity of planning, clarity of opportunity and making sure staff are used well in advance so that we can actually benefit from all of that.
"In 2016 we ran Project Rio which is now over and in 2017 we have set up Project PyeongChang and Project Gold Coast. So this stage is about added value, maximising opportunities and minimising risk. In addition, we have Mission 2018 for winter sports.
"These are six-monthly opportunities to challenge sports and make sure that they are definitely on track, and work collaboratively with our partners to find solutions to any problems that may exist."
Getting athletes Games-ready
So what kind of work will the institute experts be doing with athletes between now and the two Games? Mike explains that it is all about adding value.
"We've got clear investment principles, and management processes whereby we check and challenge sports. Our project teams will be operational groups targeting areas that could add value.
"For example, we will re-run a series of workshops on acclimatisation, travel, sleep, performance on the day and anxiety management, and we will incorporate those into our learning environments."
Quality over quantity
The home Games in London and Glasgow gave the public an opportunity to watch and support Scottish athletes competing on the world stage. They also enabled sportscotland and the SGBs to commit major resources to these events: bigger teams and bigger support teams. There will be fewer Scots involved in Gold Coast 2018, for a variety of reasons, but our aim is to have over 30 per cent selected onto Team GB for PyeongChang.
"One of the challenges we are facing with Gold Coast is that there will now be athlete quotas, so even though athletes may have qualified and reached the selection criteria, they are not necessarily guaranteed a place until ratified by Commonwealth Games Scotland and the Commonwealth Games Federation," says Mike.
"As a result of the caps on the size of the team for Gold Coast, in individual sports, we are only investing in people who can deliver us medals – and this is set out in out in our investment principles. For team sports, the target is top six.
"As part of our important partnership with Commonwealth Games Scotland, we are also part-funding the Team Scotland pre-Games camp, the purpose of which is to make sure that every athlete is properly acclimatised, turns up healthy and in a fantastic condition to perform in their particular sport."
Expertise where it matters  
In Vancouver, London, Sochi and Rio the institute was able to release quality specialist staff to Team GB and Paralympic GB.
"It is a fantastic example of how the institute experts can add value to Games preparations and are working at world class level whilst taking opportunities to grow and develop their skills at the highest level of sport," says Mike.
"An important aspect of our World Class High Performance system is the quality of data we now have on a regular basis to monitor and track progress in all performance programmes. We aim to be proactive wherever possible and head off problems through preventative means.
"We have developed our own best practice ways of working underpinned by 11 key principles of operational delivery, designed to provide clarity and a high level of efficient and effective service across the institute network.
"With all staff using far better data we can make better-informed decisions that use public monies in a very efficient and effective manner.  All this means that faced with  the prospect of three Games in 2018 only three months apart, we are geared up to cope with the pressures of working with sports and athletes in four or five different cycles all with highly ambitious goals.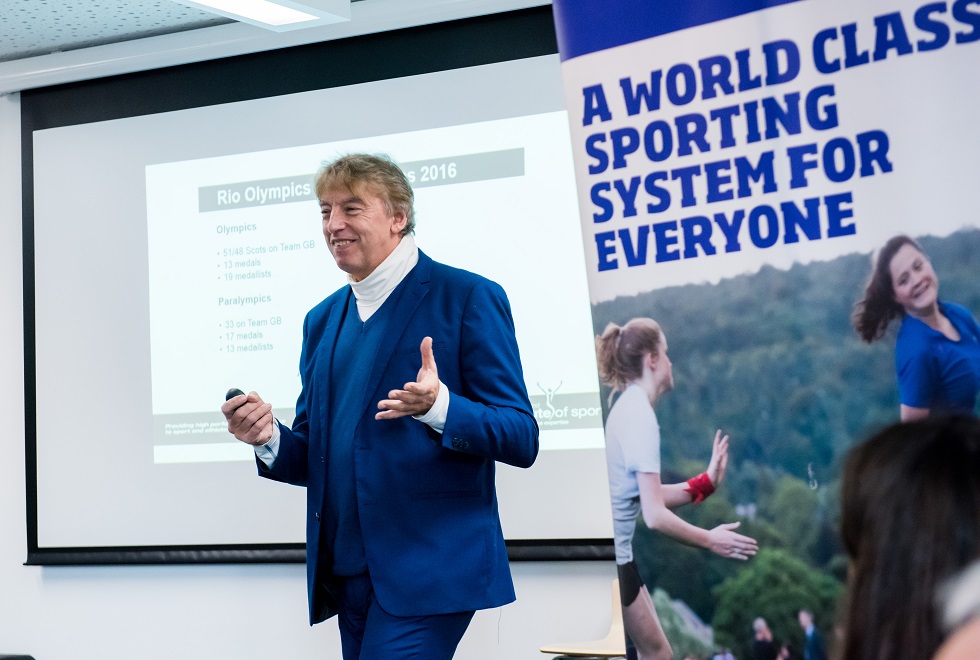 "Most sports now have dedicated practitioners, and in advance of 2018 we will ensure that there is continuity around the athletes so that we can be proactive in addressing any issues.  We want our athletes to perform on the day and achieve their best performance when it matters.
"They need to know how to control adrenaline, and sometimes the familiarity of working with the same people reassures them. So we need to support the sports in ensuring that they have the right team of practitioners."
Eyes on the prize
In 2016 there were some phenomenal doubles in British sport: Mo Farah again winning over 5000 and 10,000 metres at the Olympics, Andy Murray winning at Wimbledon and in Rio and Gordon Reid matching the achievement of his fellow Scot in wheelchair tennis.
Mike Whittingham is hoping that 2018 will see another historic double to rival the glory of Sochi and Glasgow in 2014.
"It will be another collaborative effort which should make the whole nation feel very proud of its athletes," he says.
"It will also complete 20 years where the institute has had a major impact on our British and Scottish psyche, and transformed our sporting system."
Find out more 
Read BBC Scotland's guide to the best Scottish medal prospects at the 2018 Winter Olympics. 
All sportscotland programmes are funded by Scottish Government and The National Lottery.