It is the component that runs through every aspect of her performance profile. Without control, Jen McIntosh would not have amassed anything like the number of medals she has in her collection.
Shooting requires an extraordinary degree of control, on both a physical and psychological level. It requires discipline and authority. This might seem obvious, but less apparent is the amount of background work that is needed to achieve and exercise that level of control.
For an Olympic shooter, there is a lot more to it than meets the eye . . . and that is the experts at the sportscotland institute of sport come in.
Burgeoning talent 
As she fine-tuned her preparations for the Rio Olympics, Jen and her father Donald, who doubles as her coach, opened the doors to the Scottish Performance Training Centre for Rifle & Pistol at Meadowbank Sports Centre in Edinburgh.
The centre's three ranges are buried deep beneath the bleachers of the stadium's main stand, and it is here that Donald, who doubles as Head Rifle Coach for British Shooting, has been able to nurture and develop the burgeoning talent that exists in Scotland, much of which he and his wife Shirley are directly responsible for.
But they are the first to admit they haven't done it alone.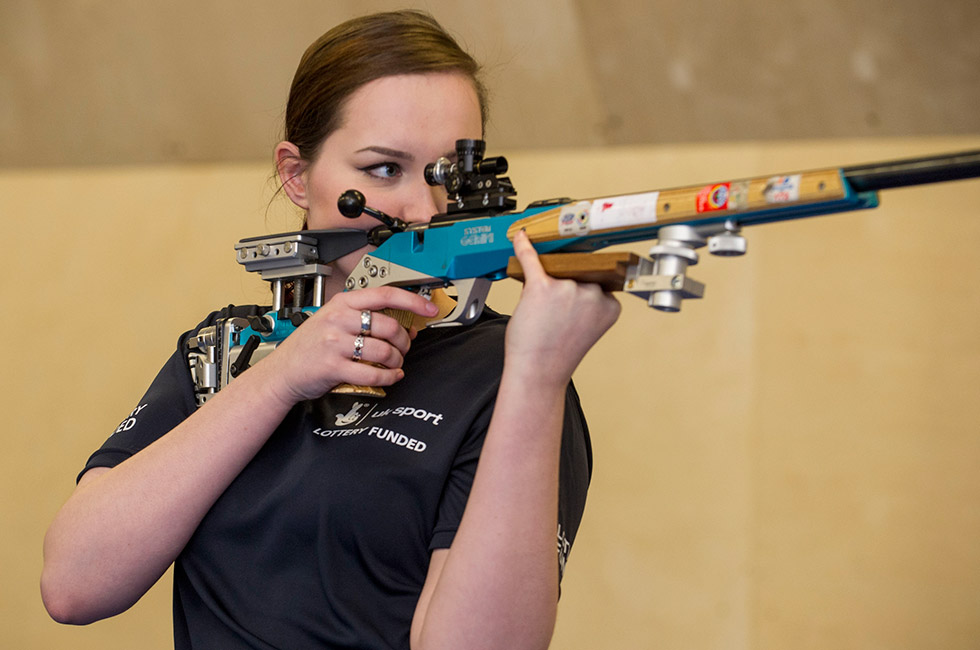 Jen is Scotland's most decorated female Commonwealth Games athlete, having won five medals at Delhi 2010 and Glasgow 2014, and her younger sister, Seonaid, is following in her footsteps having recently claimed fourth place at the European Junior Championships.
The Meadowbank facility has given these and other promising shooters in Scotland a major competitive advantage compared to the days when Donald and Shirley themselves were going for gold on the world stage. But there is far more to the support Jen receives, as an elite international athlete, than what is contained within the bricks and mortar on Edinburgh's London Road.
Not only does she receive support in the physical preparation and physiotherapy needed in a sport that demands optimum balance and poise, but the sportscotland institute of sport also provides extensive sport psychology and Performance Lifestyle guidance.
This is where that word – control – rears its head once again.
Making a difference 
When Jen, 25, competes in Rio, aiming to convert her Commonwealth success into Olympic success in a way that she struggled to in London four years ago, it will all hinge on her achieving the mental clarity and physical calm to enable her talent to flourish. If she can pull it off, there will be numerous members of 'Team McIntosh' due a share of the credit.
"Jen's received significant support from the sportscotland institute of sport for a number of years now and there's a whole team of experts behind everything she does who make a phenomenal difference," says Donald McIntosh.
"From a physical preparation point of view, she works with Niall Crosbie who is her performance lead on strength and conditioning, and Maggie Hendry is her physiotherapist – she sees Maggie very regularly.
"Shooting doesn't look particularly demanding from the outside but the number of repetitions athletes have to do to be good at this takes its toll on the body. Athletes get tight and stiff."
"From a psychology point of view she has worked extensively for a number of years with the sportscotland institute of sport: Kristine Dun originally and Simon Petrie more recently. Absolutely key, again, to dealing with what is a very psychologically demanding sport.
"Really, for me, the man that glues all this together is Colin Gallacher. Performance Lifestyle is a service that the institute provides and that deals with everything outside the technical detail of the sport, and Colin has looked after Jen from that point of view for six or seven years now, and the man is a genius in my book.
"He's made a huge difference and he helps her navigate her way through life. At times he probably takes on a role of being auxiliary Dad when Dad's being a coach.
"The whole thing is a very holistic programme and we're absolutely delighted with the support; and without it she wouldn't be where she is." 
My support: Jen McIntosh in her own words