A community sport hub in the Highlands has been running free women's only swimming sessions and lessons to encourage more women to participate in physical activity in the Highlands.
Dingwall Community Sport Hub launched the sessions after identifying a lack of women only opportunities in the area, specifically for the Syrian refugee community.
Anna Holda, Adult Learning Coordinator for Refugees at High Life Highland said: "The Syrian ladies had been asking for swimming ladies' only sessions and lessons because they used to swim, or simply enjoy the water in Syria and were missing this leisure activity.
"Due to their religious beliefs the women are not allowed to practice sports in a mixed gender environment; in a swimming pool in particular.
'Thanks to the partnership with the Community Sport Hub the Syrian Refugee women in Dingwall now have an opportunity to enjoy swimming for their social, mental and physical wellbeing."
The classes were held at Dingwall Leisure Centre, a member of the Dingwall CSH, which is part of the national sportscotland community sport hubs network, a National Lottery funded programme that brings sports clubs and community organisations together locally to improve the contribution sport and physical activity has within communities across Scotland.
The swimming sessions were fully delivered by female swimming instructors, with female lifeguards on hand too. To allow the Syrian refugee community to participate, the hub purchased modesty swimwear which was provided to the women, so they could adhere to their religious beliefs.
Five ladies attended the swimming lessons, with 10 others attending the wider general swimming sessions. The classes aimed to familiarise and develop the groups basic swimming skills to help them gain competence and confidence in the water.
Anna said:
"Some of these women haven't swum before, others haven't swum for 15 or so years, and others only in the Mediterranean Sea back in Syria.
"So, for all of them it has been a totally new experience.
"It was a pleasure to observe the ladies, happy, smiling, having fun, and laughing a lot. You could see their confidence grow from when they first stepped foot in the water to the end of the lessons."
"Engaging in swimming at HLH Leisure Centres makes a significant difference to our Syrian female learners'.
"They feel more empowered, have gained confidence, and has integrated the women better into the communities."
The sessions ran for 12 weeks, after which the women were encouraged and confident enough to continue their practice in the ongoing women's only community sessions.
Positive outcomes
This programme has seen many positive outcomes with one participant saying: "I'm so grateful for these sessions and allowing me to return to swimming after so many years away. I can only swim in a women's only environment due to my culture and if it wasn't for these classes I would have missed out on swimming for another decade or more."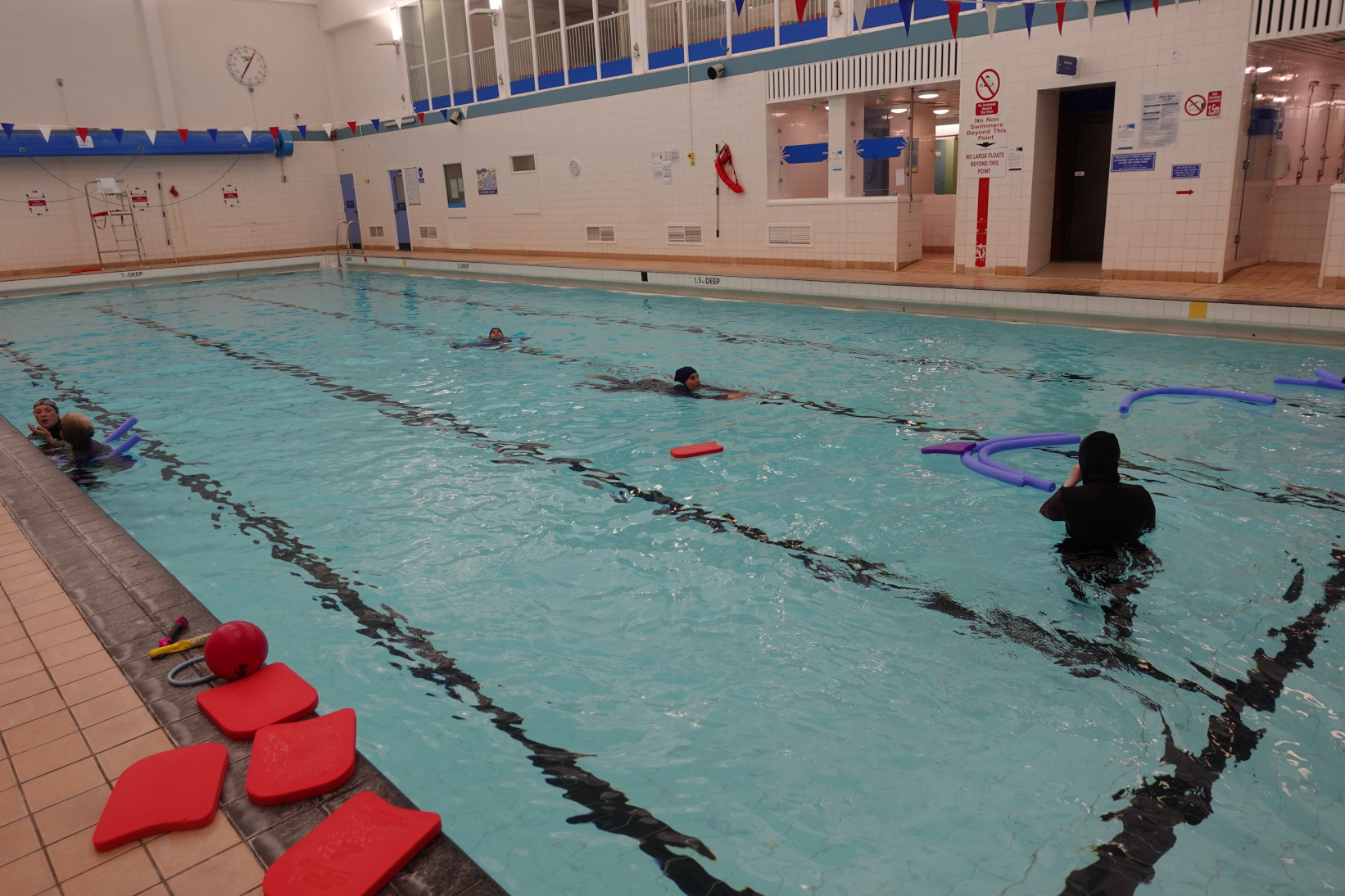 Another participant said: "The sessions have been a highlight of my week and help to give a break away from my usual routine. I was nervous at first, but I have found that swimming is such a relaxing activity.
"I am in my forties and have never swum before, so these sessions have made me learn that it is never to late to try something new."
Katie Matthews, Community Sport Hub Officer for High Life Highland said: "The sessions have been a welcome addition to the local community in Dingwall. We have seen multiple benefits in the women who have participated. Their physical and mental health, being more integrated in the local community and the sense of empowerment the sessions provide them.
"We are in the process of restarting the lessons after summer and due to the programme's success in Dingwall, we have been able to start up women's only swimming lessons and session at Culloden Leisure Centre near Inverness. The new women's only swimming programme has quickly become popular and is supporting a women's Afghan refugee group and other local women."
"The women have also started asking about attending other activities at the Leisure Centre such as Badminton, and we are looking into making this happen. We're also having conversations with Community Sport Hub partners in Caithness about a swimming programme for Ukrainian families."
Find out more