A project in Moray is using football to support people with mental health and addiction challenges and help them find employment.
Active Recovery Moray is a partnership between Moray Community Sport Hubs, Elgin Sport and Community Trust, Police Scotland, and Arrows – a Quarriers service providing support for individuals and families affected by drugs and alcohol throughout Moray.
It was started in May 2022 with the aim of providing free sporting opportunities to allow participants to experience the wide range of physical and mental benefits of staying active, as well as being a platform to improve social inclusion, enhance life skills, build confidence and enhance future employment opportunities. Participants are referred to the sessions by social services, Arrows and NHS staff.
Moray Community Sports Hub Development Officer, Dimitris Chrysanthakopoulos said: "Coming out of the COVID-19 Pandemic, mental health awareness was very high and we knew it was going to be a priority for the area. The project we came up with was definitely something that was missing from the area. I approached Arrows and explained my idea, they really embraced it from the beginning. They got feedback from their clients initially to help us shape the project, that's why we chose football as the activity.
"Once everyone saw the outcomes that we were getting it continued to grow, we were getting very good feedback from participants.
"The participants were going to the job centre and social work appointments saying how good they had been feeling since starting the football sessions.
"It is fantastic to see. I didn't expect this level of impact when we started the project. You can see how happy everyone is during the sessions, not only playing football but being able to meet and make friends with some people who have similar issues to them. It's a very relaxed and welcoming environment. You wouldn't know these people are facing the challenges they are."
Initial funding from Arrows, Police Scotland and Moray Community Sport Hubs has allowed the project to run a free football session weekly at the Gleaner Arena in Elgin. The sessions are a safe place for participants to come and meet other people going through similar difficulties in their lives.
Each session is supported by a member of the Arrows drug and alcohol support team as well as a local police officer, who has gone through Scottish Association for Mental Health (SAMH) training, allowing them to hold informed mental health conversations and support the participants.
The project is having a profound impact. Jonathan Mitchell has been attending since the beginning, he has ADHD and was unemployed. Jonathan's enthusiasm for the project was such that he has now done some online coaching qualifications and is leading the sessions himself. He has also managed to find a job and says he is a completely different person.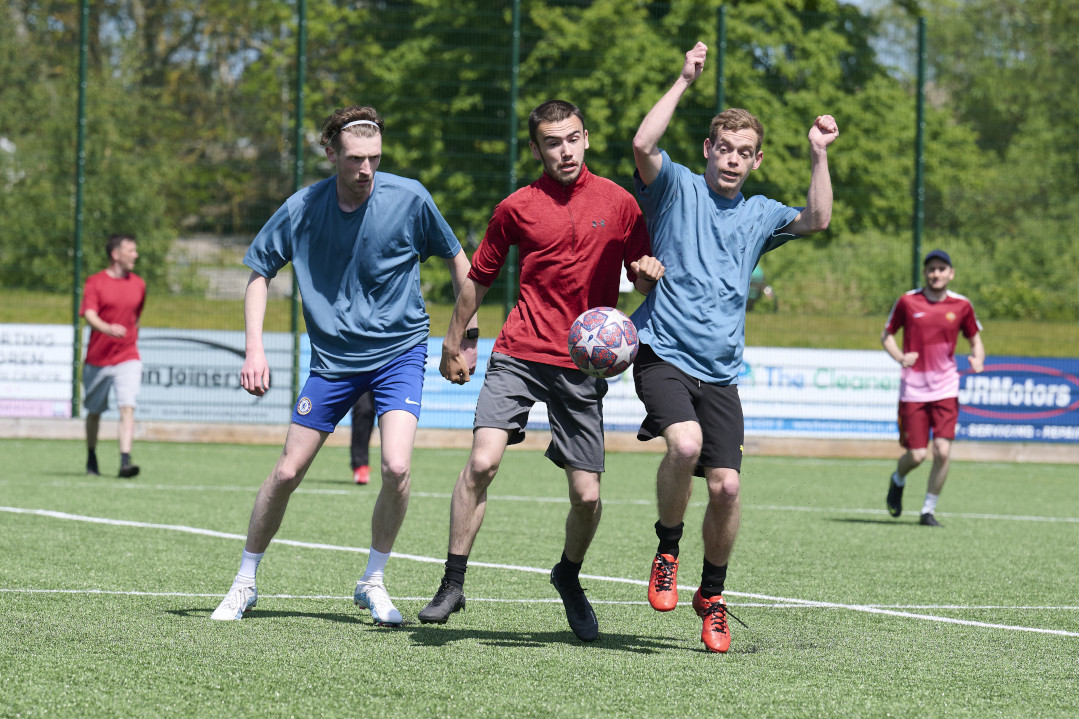 Jonathan said: "I started coming because I was struggling with my mental health. I felt there was something missing in my life and the football sessions have given me a lot. Doing the coaching now it feels great to be able to have an impact on other people's lives and making sure they go home with a smile on their face makes me feel good.
Fellow participant Connor Dalgarno added: "My mental health was spiraling out of control late 2021 into the start of 2022. I seen a post on Facebook about Active Recovery Moray and thought I may as well give it a shot.
"When I came to the facility I felt like I was loved here, I've made some friends for life
Across Scotland, a network of Community Sport Hub Officers work with leaders in the local community to help understand barriers and develop inclusive approaches to ensure everyone can get active. They help establish partnerships and develop plans and resources to build capacity and capability in community organisations.
The success of the project has led to plans to expand to more areas of Moray through local sports clubs and with different sports. It has also led to the development of the Moray Mental Health Charter for Physical Activity which will see clubs in the area commit to staff training which will provide a more inclusive environment for participants. Some Active Recovery Moray participants require very specific support but plans are in place to provide support for people who may need it but are able to join mainstream club sessions. 
Find out more
About Sport For Life 2023